Literature can make people introspect, and that has the magic to change our attitude.
India has traditionally been the land of storytellers and a lot of us have an inherent skill to create riveting plots, good stories, and effective narrations. With a little encouragement and support, many more authors will be widely read and attain a place in the sun, as they create a body of literature that we all can be proud of. This is the essence of Readomania - an initiative that nurtures reading and writing.
It would not be an exaggeration to say that Readomania is the talent hunt in fiction. It goes a step beyond by not just identifying the talent but also nurturing it and showcasing it to the world. In the process, we are creating a powerhouse of content online and in print.
Traditional Print Publishing
There is a story in each one of us. If one has the ability to express it, put it on paper in a way that leaves a long-lasting impression on the reader or has the potential to inspire or change lives, we promise to take it to the world.
If you have the basics, we promise to help polish it. Read more on how to submit a manuscript to us!
Our books are available widely in bookstores and on online portals.
Digital Imprint of Books - Readomania Shots
Many times the content is compelling but may not make commercial sense to publish it in print due to the market and cost economics. We try and accommodate those manuscripts into digital ebook formats. These books are available on Kindle.
Online Library of Free Content - Readomania.com
Readomania.com is an online publishing platform for budding authors; a place to share stories and poems; a place to explore your creative talent. Authors can register, or login through social media sites and upload their work, which then gets reviewed. The review process includes copy and developmental editing, improving the plot, narration or word choices. If authors are promising but need aids in language enhancement or storytelling capabilities, we work with them to improve their work. This hand-holding and personalised attention is what makes us unique. We stand out in the crowd because we don't hesitate to walk the talk to make an author's work readable. Finally, the work is published on the site. Once published, people can read it for free, share it on social media, email it, rate it, vote for it and even leave their feedback. This helps the author get critical feedback to improve their writing as well as encouragement to write more.
The site also has a lot in store for the reader. Since the content is edited and curated, readers get quality reads on a platter. The variety on Readomania is impressively vast; we have romance, emotions, thrills, travel, humour, and drama. You will find stories that touch your heart, stories that inspire you, stories that make you laugh and stories that make you cry.
Accessing Readomania makes for a perfect break of fifteen minutes from your daily grind. Just read a story and unwind.
Take a break, read something nice, write something beautiful, buy something literary.
Dipankar Mukherjee
Founder
A management graduate from IIT Madras, Dipankar had worked for the consulting industry for almost eight years, before taking the road less travelled, to pursue his passion for reading and writing. His major assignments were with IBM and Ernst & Young. You can contact him through Linkedin or Facebook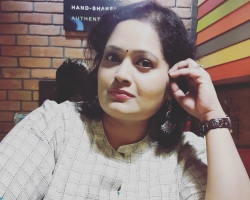 Indrani Ganguly
Resident Editor
Read Jim Corbett's Man-Eaters of Kumaon? Now meet the Main-Editor of Readomania! She has lost count of the books she has edited (also, numbers were never her forte) but creating books is what keeps her going. She can sniff out the potential of an author and will bring out the best from them, no matter what. An English Literature grad with a post-graduation in print journalism, she works best under pressure, a trait acquired during her newsroom days that she still hasn't been able to shed. In college when one of the professors said reading Joyce's Ulysses might seriously invite insanity, she took it up as a challenge and read it in a month. Go blame Joyce for this nutty as a fruitcake editor now! Although she has no genre loyalty when it comes to work, Indrani is a sucker for crime thrillers. When she is bored of writing and editing words, she plays with more words to unwind. Punning is a passion and almost like a chronic bad habit that irks people around her. Word! She loves to chronicle her daughter's quirkisms and photograph her different moods ably supporting them with fun and punny captions. She uses social media for both amusement and information, being the amuser and informer herself quite often. She is a good editor, a great human, the greatest friend to have.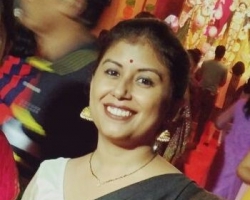 Rima Kar Ghosh
Senior Editor
Books always polarized Rima's attention, if not dystopian and treasure-hunting movies.
Born and brought up in the scenic valleys of Assam, Rima went to St Mary's Convent High and grew up in a regular diet of Nancy Drew, Archies, Shuktara, Anandomela, et al. She moved to the University of Delhi for further studies and did her Bachelors and Masters in Philosophy and Religion.
Apart from the written word, she enjoys travelling and is on a road trip every other weekend. She is selectively active on social media, has learned Spanish and loves the idea of learning more languages.